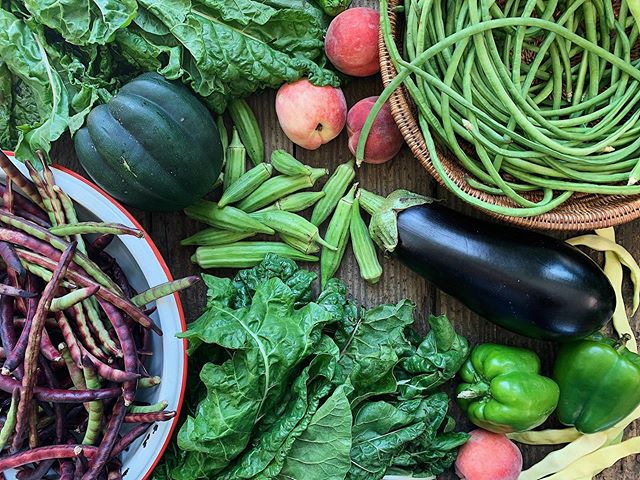 Our Community Supported Agriculture program lets you take home a share of the harvest every week during our long growing season.
The Annual Report
Our 2018 Annual Report contains all the accomplishments of the year, plus a look ahead. It's a fun read, so please do take a few minutes to check it out:
Meet Lynchburg Grows!
Explore the farm and meet the people who make it wonderful in this video update for 2018.
Our mission is to work with our community to provide access to healthy food and afford purposeful jobs to individuals with disabilities.
You can support Lynchburg Grows by volunteering, making a donation, or joining our community supported agriculture program. Read more about all our programs below and stay connected by signing-up for our monthly newsletter.
Our farmers grow great food on this unique urban farm, using only organic methods. Here's the lowdown on what we do with it.
The Veggie Box: Community Supported Agriculture
More than 100 families share in the harvest every season by becoming members of our community supported agriculture program. Whether you're a member or not, anyone can visit the farm during store hours to buy the produce we're growing. Read more here.
Veggie Prescriptions
Doctors prescribe our FreshRx program to patients with diet-related illnesses. We fill those prescriptions with nutrition education classes and fresh veggies for those patients to take home and eat. Read more about the program here.
Food Donations
We donate produce every week to the Society of St. Andrew, the Salvation Army, and other local organizations that feed the hungry. We also donate CSA shares to Miriam's House, and conduct free pop-up produce markets at the Community Access Network clinic and at WIC at the Health Department. Thanks to our partnership with volunteers from St. John's Episcopal Church, who use some of our greenhouse space to grow food, we donated 16,993 servings of produce in 2018.
Restaurants
You can also find our food in delicious dishes at area eateries that support a farm-to-table philosophy. It doesn't get much more fresh and local than produce grown in the heart of the city!
About
Learn more about the many ways we serve the community, our history, and our future goals.
Get Involved
We have exciting projects underway, plus big plans to do even more. We need your help to make it all happen.